SaaS Management improves security and reduces cost
We provide our solutions as Managed IT Services, so you don't need to be IT experts to benefit from our solutions.
We have partnered with Augmentt to provide the best SaaS Management service for your business.
Why use SaaS Management
Small and medium-sized businesses around the world are using Software as a Service (SaaS) to empower workforces, increase employee productivity, and fuel competitiveness.
SaaS is the model of the future however, it's also a huge source of frustration for security, IT, and finance departments. That's because anyone in your organisation can sign up and start using a SaaS tool without the full knowledge of the security, productivity and financial impact of their decision.
This is Shadow IT and it's the leading cause of security breaches, data loss, and budget waste in small to medium-sized businesses. By leveraging SaaS management you have the ability to centrally discover and secure all of your SaaS apps. Completely eliminating shadow IT.
SaaS audits allow you to discover all of the SaaS usage, providing a complete 360 degree view of all of your applications.
The ability to secure SaaS applications allows you to detect threats quickly and close security gaps by understanding vulnerabilities across all of your users. Keeping your environment safe and protected.
Stop wasting time and energy manually tracking with SaaS usage and complicated spreadsheets and accounting systems and start leveraging SaaS management to help you discover, secure, and optimise your growing sass environment.
Let SaaS management be the engine that powers your SaaS productivity and efficiency.
Our SaaS Management Service has 3 distinct parts, these being:-
Not all customers want or need, all three parts of the service so they are priced individually. That way if you only want the SaaS Discovery service that is all you pay for.
SaaS Application Discovery
The first Saas Management Service is Saas Application Discovery.
Discover the full SaaS Application mix used in your environment to help mitigate risk from cyber security threats. You will find that you are using a lot more SaaS applications than you thought.
Take the SaaS Discovery Challenge by completing the trial request at the base of the page.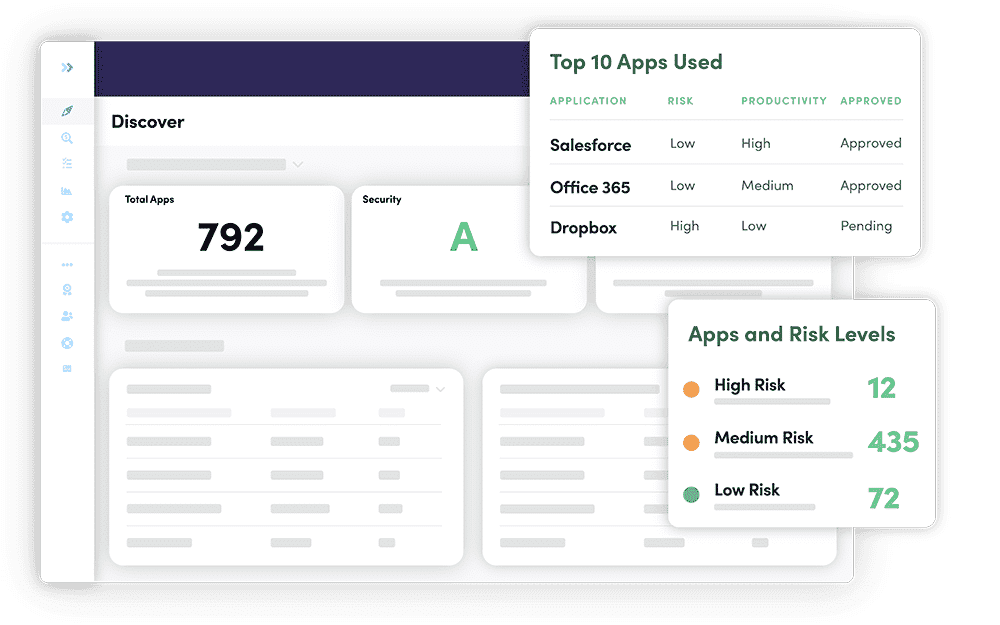 Augmentt Discover is agent based and allows you to quickly identify every SaaS application being used across the organization regardless of where people work, which device they use, and how they run the application. 
The Discover Agent supports both Windows and Mac and identifies and catagorises over 22,000 different SaaS applications. Classifying the application Risk, Productivity and organisational approval. 
Benefits of SaaS Discovery
You can't manage what you don't know about! So the first benefit of using SaaS Discovery is to get an ongoing usage inventory of the SaaS applications used within your business.
Cost Control – If you are paying for 30 users of an application, such as SalesForce or Zoho, how many people actually use it? SaaS Discovery will show you the number of users who regularly use the application. 
Shadow IT – You use Office 365, including Teams and OneDrive. So why is the Marketing team regularly using DropBox and Google Mail? There might be a perfectly legitimate reason, but now you can ask the question.
Improved Security – Now you know what applications are being used you can see where Corporate data might be stored and check if that breaches your Data Security Policy. 
Application Approval – You have a list of approved applications that can be used within the Business. Now you can see who is breaching the Policy.   
Reporting – You can receive regular reports on your SaaS Management and usage. An example of one of the reports is SaaS Management – Discover Applications
SaaS Secure - for Office 365
Protect and Secure Office 365

Currently Secure supports Microsoft Office 365 only. Other applications will be added to the Secure Portfolio during upcoming releases of Secure.
Protect your most important cloud applications by auditing & monitoring security policy enrollment, including Multi-Factor Authentication (MFA), to significantly reduce the risk of a security breach.
Improve your Office 365 Security posture by quickly identifying missed configuration options, highlighting issues, and reducing the threat risk by enabling MFA and policy-based enrollment.
Reporting to show how security scores have improved over time and highlights activities that are still outstanding. 
Engage SaaS Management for Office 365 and Google Gsuite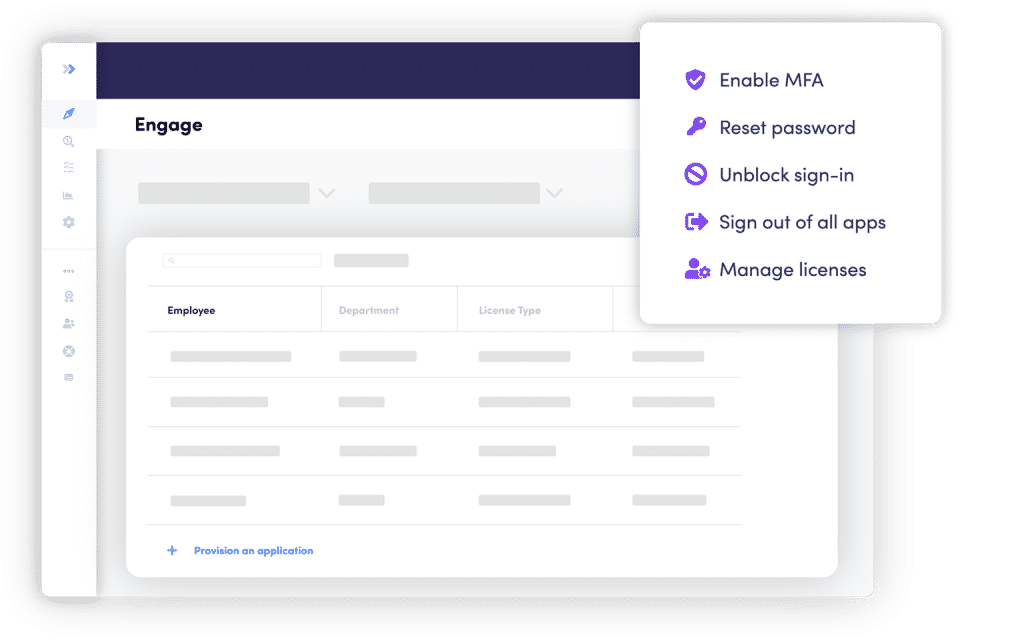 Accelerate SaaS management to streamline provisioning, simplify daily user management, improve security and increase productivity.
Least Privilege Access
Augmentt Engage provides IT teams a transparent access management model that seamlessly provides users with the access level required to get the job done without the headache of exposing the organization to the security risks and data breaches associated with excess privileges.
Enable Level 1 Technicians to use delegated access to manage day to day Office 365 tasks, such as:-
Enable MFA for a user
Reset a Password
Block or unlock a user account
Manage Group Membership
etc
Audit Logging
We retain logs of all actions taken within Engage and by whom, ensuring security and accountability of all activity.
Need Help With SaaS Management? We Are Experts!
Take the Challenge:
When you complete the form for the 14 day trial. Include how many SaaS applications you think are being used within your business.